Celebrating Excellence: Joan and Paul Rubschlager Building Wins LCI Design Award
The Lean Construction Institute is pleased to recognize the awardee of the third annual Design Award:
Joan and Paul Rubschlager Building, Chicago, Illinois
Rush University Medical Center: Owner
HDR: Architecture, Planning, Interiors, Signage & Wayfinding
Jacobs: Program Manager
Partners:
3HC Tangram Design: Programming
AEI/TMI: MEP
Aurora: Lighting
CCS: Estimating
DMA: Civil
Lerch Bates: Vertical Circulation & Fall Protection
Nia: Associate Architect
RME: Structural
Site Design: Landscape and Site Features
SMW: Security & Technology
St Onge: Supply Chain
RRJ:  Envelope Consultant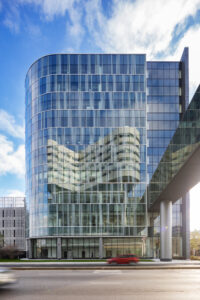 The iconic Joan and Paul Rubschlager Building completes a campus transformation on 11 acres in the nation's largest urban medical district to a hub for leading edge patient care, research and education. An integrated team delivered this new destination center for cancer and neurosciences care, designed to meet the needs of patients with complex problems, in a streamlined, supportive and highly effective facility.  The central goal was to improve health. The vision is a 'reflection' of their past, and forward-leaning values of innovation, collaboration, accountability, respect, and excellence.
As one of our jurors stated: Development of the Team Guiding Principles developed at the outset of this project created a strong roadmap by which value and efficiencies were driven to create a project that serves the neighborhood while both blending in and standing out.  This team was consistent in its utilization of Lean principles from the earliest of planning through execution.
The integrated delivery team applied discipline in adhering to the established criteria with notable outcomes. Lab turnaround times have improved by nearly 50%. Satisfaction scores have reached 98%, and cost savings resulted in building out future shelled diagnostic and treatment rooms.
Incorporating TVD principles resulted in a lean solution that coexists with exemplary design.
A rigorous set-based design process was used for selecting a high-quality exterior brick material, noted as reminiscent in a warm and familiar way, but pivotal in meeting our target cost. Innovative biophilic- inducing design, combined with a curated light sculpture circulation path and iridescent wall mosaic supported LEED 4.0 Gold certification. Destination visibility is enhanced by identifiable embedded letters in art glass panels for intuitive wayfinding and complemented with frit cascading patterns for privacy. Custom-designed art glass in all elevator lobbies creates distinct memories for patients and staff alike. Modularity-simplified planning and placement of transparent openings, a harmonious connection between the building and surroundings, with external visual cues on all sides.
Honorable Mentions:
Vanport Building
Portland, Oregon
SRG Partnership: Architect
The City of Portland, Portland Community College, Oregon Health Science University, and Portland State University: Project Owners
Andersen Construction:  General Contractor
Partners

PAE Mechanical Engineers
Samata Electrical Engineers
Catena Structural Engineers
Mayer Reed
BiElla Lighting Design
Southland Industries
The Harver Company
Cherry City Electric
Children's Hospital of Richmond at VCU Children's Tower
Richmond, Virginia
HKS: Architect
Children's Hospital of Richmond at VCU: Project Owner
DPR Construction:  General Contractor
Partners

BR+A Engineers
Dunbar Structural
Introba
JLL
Walter P Moore
St. Onge
TRC Companies
Reichbauer Studio PLC.
The Lighting Practice
Liz Taylor Creative
Exit
About the award –
The Lean Construction Institute (LCI) Design Award recognizes project teams that are delivering outstanding design while advancing the industry through collaborative Lean Project Delivery. The purpose of this award is to encourage the adoption of Lean approaches and methods to improve project outcome and elevate design.
While the focus is on the design elements, the LCI Lean in Design Award recognizes an entire project team. This includes the engineers, designers, architects, clients and builders who work collaboratively to improve the whole design and construction process start to finish. The design firms on these projects are examples of design excellence, they have brought Lean to the design space.
Submissions were scored by factor:
Design Aesthetic (50%)
How Lean tenets were used to achieve the final project (50%)

Respect for People
Generation of Value
Optimize the Whole
Continuous Improvement
Removal of Waste
Process/Flow
Cost and Schedule Approach
We would like to acknowledge the 2023 LCI Design Award planning team for pioneering this award program.
LCI Design Award Planning Team Members and Design Award Jury Committee:
Planning team: Bernita Beikmann, HKS, Inc.; Stan Chiu, Gensler; Lisa Hitchingham, SSOE; Michael Murray, The Beck Group; Romano Nickerson, Boulder Associates; Neelanjana Sen, HGA Architects and Engineers; Andrea Sponsel, HKS, Inc.; Annmarie Thurnquist, Jacobs; Steve Wilson, HMC Architects
Jury facilitators: Bernita Beikmann, HKS, Inc. and Stan Chiu, Gensler
Jury Committee: Diane Anglin, Clark Construction; David Berlekamp, Cleveland Clinic, Craig Kolstad; Tony Montalto, HKS; David Van Wyk, Generis Collective
LCI received many impressive submissions and would like to extend our appreciation to all those who submitted. Awardees will be recognized on Thursday, October 26th at the 2023 LCI Congress Award Ceremony in Detroit, MI!